ZLYJ Gearbox for Extruder or for Twin Screw
Product Detail
Product Tags
ZLYJ gearbox series are transmission devices, which are specially designed for single-screw extruder with high precision, hard gear surface, accompany with thrust. Adopting the technical specifications stipulated in JB/T9050. 1-1999, all ZLYJ gearboxes are designed accordingly.
1. The material of gear is the high strength alloy steel, it is manufactured by carburizing, quenching (and other heat treatment), gringding process at last. The gear is in high precison ( 6 grade ) and high hardness ( reaches HRC54-62). Besides, it features low noise when operating.  
2. It contains high bearing ability thrust, which is performed reliable and can withstand larger axial thrust.  
3. All the items are treated by forced lubrication and cooling system except very few small specification products.  
4. ZLYJ series gearbox is adopted by six-side processing box. Its normal installation is horizontal, but can also be changed to vertical installation according to customer's requirment.  
5. Efficiency transmission, low noise, long operaton time.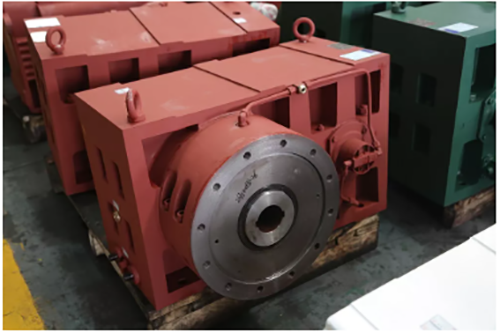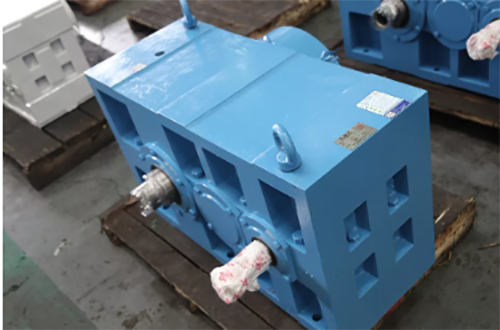 1. The input rotation of prime mover shall be ≤1500rpm 
2. The peripheral speed of gear drive shall be ≤20m/s
3. The working ambient temperature shall be within -40~45°C.Preheat the lubrication oil to above 0°C  when the ambient temperature is below 0°C. Rotation is available both forwards and backwards.  However, the high speed  shaft  of some types of reducers has a single way oil pump directing as defaulted to the output shaft  which rotates clockwise.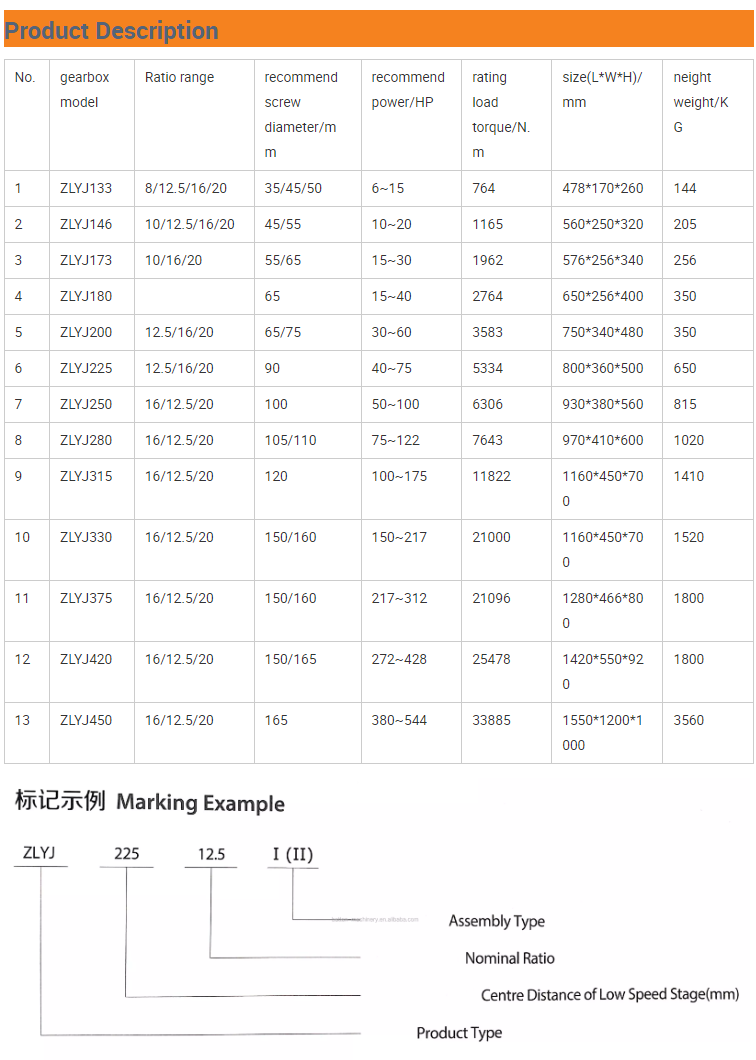 SZ Series gear box for conical twin-screw
SZ serial gearbox for conical twin-screw Rod Extruder is a special driving unit matched with conical twin-screw rod extruder.It consists of two parts,namely,the reduction box and the distribution box.
After reducing speed and increasing torque of themotor,it outputs the motive power to the distribution box,then drives the double output shafts(the included angle is the same withthat of twin-screw rods)via a pair of small conical spiral gears with driving ratio of 1:1,thus to drive screw rods to rotateoutward with different direction.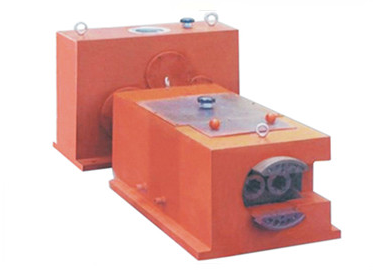 1. There are involute cylindrical gears in the gearbox,which data and structure are optimally designed by the computer.
2. The gears are made of top-quality high-strength low carbon alloy steel after carbon penetrating,quench and teeth grinding.It has high hardness on teeth surface.large bearing ability,small noise,smooth operation and high driving efficiency.
3. The material of the distribution box is nodular graphite casting iron and the gears have high-strength ground teeth,in whichsnake-shaped cooling water pipes are distributed.
4. The maximum input speed of the gearbox is normally not larger than 1500 rpm.
5. The temperature in work environment is -10-45,when temperature is lower than 0,the lubricant oil should be preheated to +10before starting.
---
Previous:
---
Products categories